Goofball Giveaways
This page is about the giveaways that we had during minting. Follow us on Twitter or join the discord to learn about future giveaways.
The Goofball Gang has ongoing NFT giveaways 🎁:
Every 100 mints we'll airdrop 3 newly minted Goofballs!
Read on how you can participate and win.
Airdrops for new and existing owners
Every 100th mint we will airdrop two new Goofballs:
Owners of the 100 most recently minted goofballs can win an airdropped goofball.
Owners of all existing goofballs can win an airdropped goofball.
Note: Goofballs that are offered on OpenSea for 0.1 ETH or less are excluded from the draw.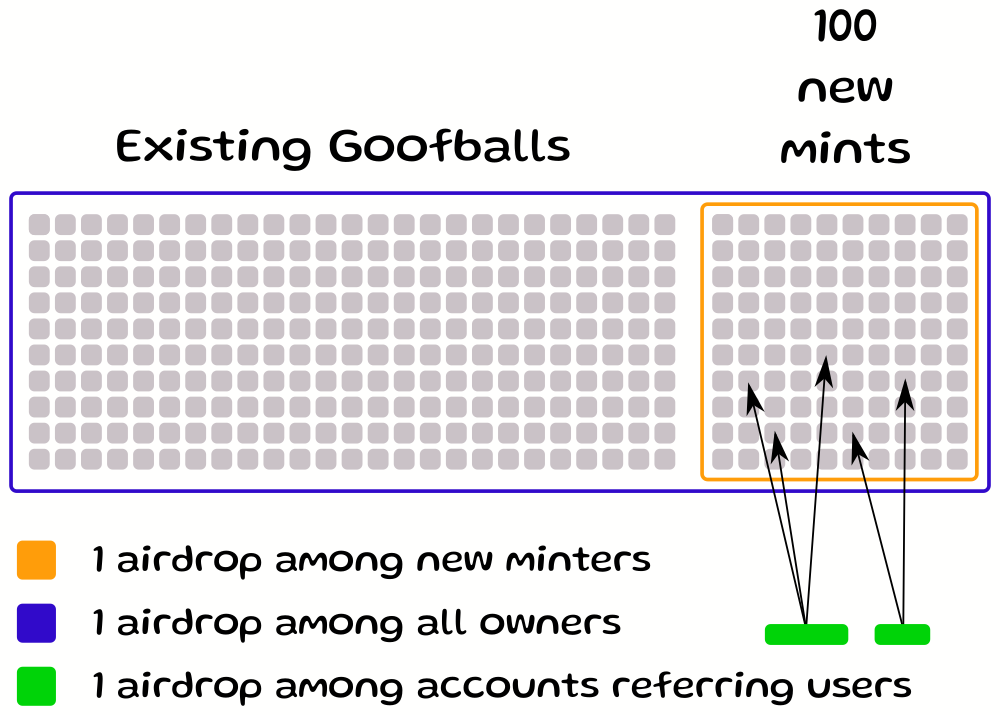 Airdrop if you refer users
Can you refer friends to the Goofball Gang? Great! If you do, you have a chance of winning an airdropped Goofball every 100 mints as well.
If you send an affiliate link to your friends or post it on social media, and it's used by somebody to mint a Goofball, you're entered for the airdrop at the next 100th mint. The more mints you refer, the higher the chance you'll get an airdropped goofball!
Use this referrer URL builder to create your affiliate link:
Your ETH address:
or
ID of a goofball you own
Your affiliate link:
2500 mints Giveaway
At 2,500 mints we gave away 3 rare Goofballs: